Ordering 800-291-3739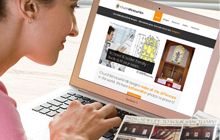 Ordering Process
Before ordering your church window film, please follow these easy steps, if you have any questions before beginning, CONTACT US:
Measure your window(s) using length x width to get the square footage, making sure you are only measuring the actual glass surface you want to be covered, nothing else. Get measuring details >
Browse and select a Church Window Film® design(s) and optional medallions (if applicable), if you have custom artwork or designs you would rather use, simply give us a call to discuss your options.
Call in your order – indicate design and window sizes and any other modifications needed (crosses, medallions etc) at that time.
Once film arrives, install using our simple step-by-step instructions.

Enjoy your beautiful windows knowing you will not have to worry about them peeling or fading.
We are available to assist you every step of the way with any question you may have from sizing to custom options. We encourage you to review our list of resources (shown at the left), or contact us directly. We're happy to help.