Measuring for your decorative window film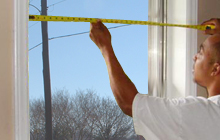 ChurchWindowFilm® designs can be made in any size and shape – and in a wide variety of design options. Our film designs are suited for any sanctuary windows, we have solutions for any type window situation. Our artistic designs are perfect for large baptistery type windows and other areas.
When figuring your size, round any odd size to the highest 1/2 ft. size when figuring up the square footage for cost. We will make the exact size you give us to make, so when measuring, be sure to measure only the glass surface that the film will actually be applied to
If you have questions with sizing and pricing, please contact us.